How to Create a Poster People Will Read
A poster is not an oral presentation or manuscript – it's a hybrid that is more interactive than either
Think of a poster as a visual abstract
Viewers have limited time to view posters —you want yours to be noticed!
Only present the main findings of your work
Plan your poster around 1 or 2 key points: what is your take-home message?
Save the background and details for the manuscript
When viewers want more information:

Provide handouts/supporting material
Include your email address on the poster
Provide a QR code to link to your work online
Developed by Mike Morrison at Michigan State, the "better" poster uses a more efficient, less text-heavy approach to poster display.
Your take-home message should be the most prominent element on your poster
Use plain language
Include only minimal background/introduction, methods, & conclusion; summarize as much as possible
Use graphs, charts, and images instead of text
Use a consistent font throughout; sans serif fonts (Arial, Helvetica) are easier to read
Stick to 2-4 complementary & contrasting colors
Make your contact information clear
Look online for good design samples or download our templates
Watch Mike Morrison's entertaining "better" poster videos:
Content and Organization
Goal: present your findings while maintaining a clean, uncluttered poster.

Use "W"s (who, what, when, where, why) to organize elements of poster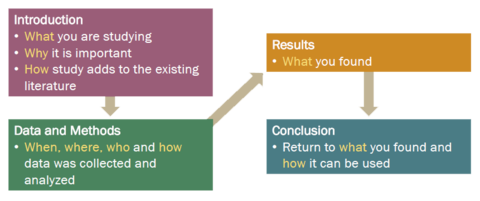 Main findings at top or center
2-3 bullet points for Introduction or Background. Be specific to your topic only; no detailed background or introductory information
Single-sentence Aim, Hypothesis, Purpose, or Objective; this can be bolded or in spotlight color
Keep Materials and Methods brief - give overviews, not specific detail
Discussion section (if needed) keep to 2-3 bullet points
Be creative with Summary or Conclusion header; try something like "Clinical Implications," or "Impact on Current Research" instead
References - not needed on posters!
Acknowledgements - thank those who helped you with your research (excluding co-authors)
Funding - ALWAYS note any sources of funding you or co-authors/mentors have received for the work
Disclosures are often required - check presenter instructions
Follow instructions regarding:
Final printer poster size
Vertical vs. horizontal orientation
Need to include abstract or poster number?
Logos: be sure any logo you use is allowed, up to date, and in high resolution
Title of the poster should be exactly what was submitted to the meeting or conference
Authors' names: in correct order, preferred names, spelled correctly, degrees
Affiliations: group same department or division affiliations
Double-check: correct spelling of names, correct degrees if used, correct department, division, and institution names
Text tips
Do not use all uppercase lettering, even for title
Avoid text justification, which disrupts natural reading
Use a consistent font throughout; sans serif fonts (Arial, Helvetica) are easier to read
Use BOLD font for titles, headings, and emphasis of key points
Font size recommendations

poster title: 80–100 pt
authors and affiliations: 60–70 pt
section headings: 50–60 pt
body of poster: minimum 28 pt
Color tips
Color is good! …but stick to 2-4 complementary & contrasting colors (emphasis is lost if too many colors are used)
Use color to attract viewers to your poster, emphasize important points, highlight sections, or point out similarities and differences
avoid red/green contrast, in consideration of those with

color vision deficiency
Use high resolution images only. Images copied from an online source are often NOT suitable for printed posters (contact the Design Center if you are unsure about image quality)
[click for larger view]

create clear separation between images
if adding arrows or other elements to images, use thick lines and contrasting colors
[click for larger view]

Never reuse a previously published image without permission or at least citing the source
Articles will always have a link to permissions - most publishers require permission to be requested through RightsLink
 

 
General Tips
Keep data to a minimum
No need to number figures or tables
Include descriptive titles or legends (place titles above and legends below)
Figures (graphs, charts, diagrams, illustrations)
Keep figures clean, simple, and uncluttered.  See examples of each below.
---
Graphs and charts
Be sure to choose the appropriate graph type. Here is a good resource: https://www.clips.edu.au/displaying-data
| Goal | Type of Graph or Chart |
| --- | --- |
| Compare values | Column, bar, circular area, line, scatter plot, bullet |
| Show composition | Pie, stacked bar, stacked column, area, waterfall |
| Show distribution | Scatter plot, line, column, bar |
| Analyze trends | Line, dual-axis line, column |
| Show relationship | Scatter plot, bubble, line |
Use clean, simple 2-dimensional graphs and charts
Avoid excessive labeling and superfluous features (arrows, data labels)
Use high contrast colors; avoid red/green contrast, in consideration of those with

color vision deficiency

Avoid thin lines
Avoid light colors on light background
Examples of bad vs good graphs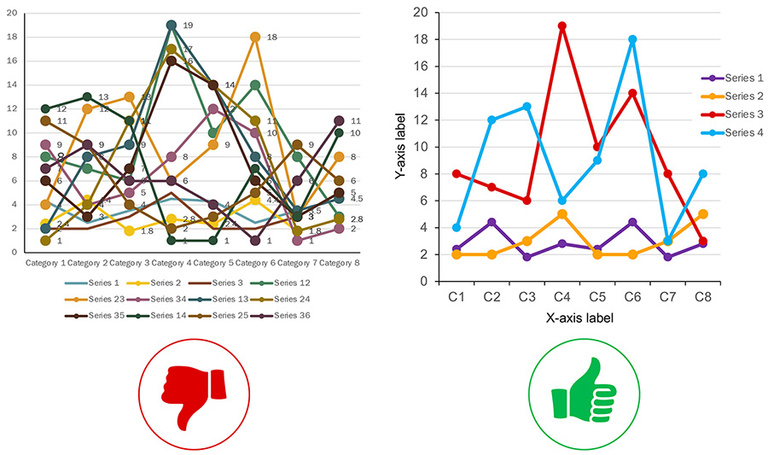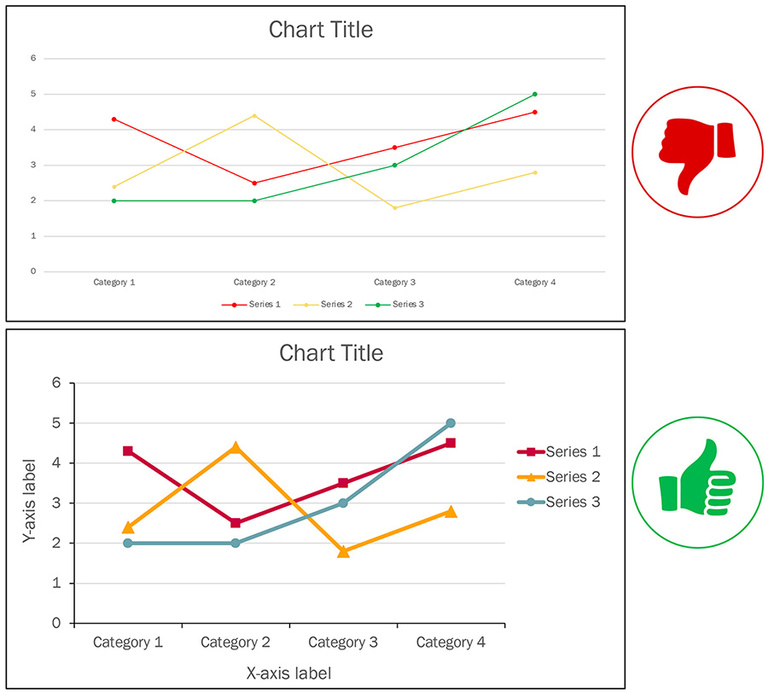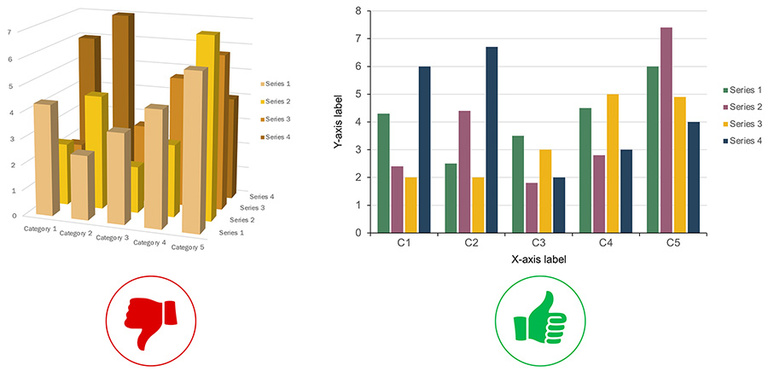 ---
Diagrams and illustrations
Use clean, simple elements

Avoid light colors on light backgrounds & dark colors on dark backgrounds
Avoid busy backgrounds
Avoid excessive labeling - use the image to SHOW rather than text to TELL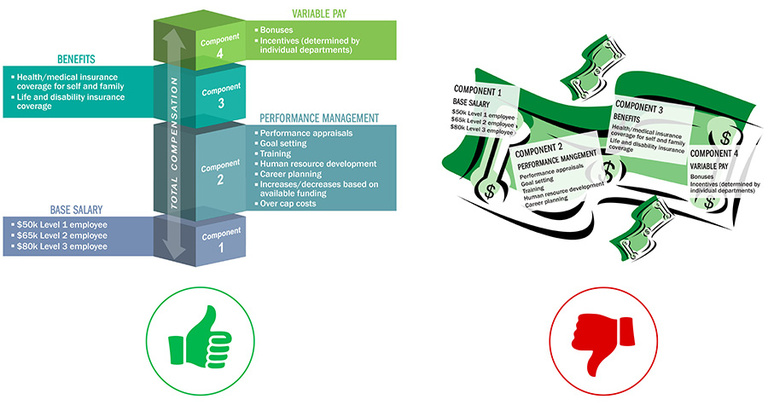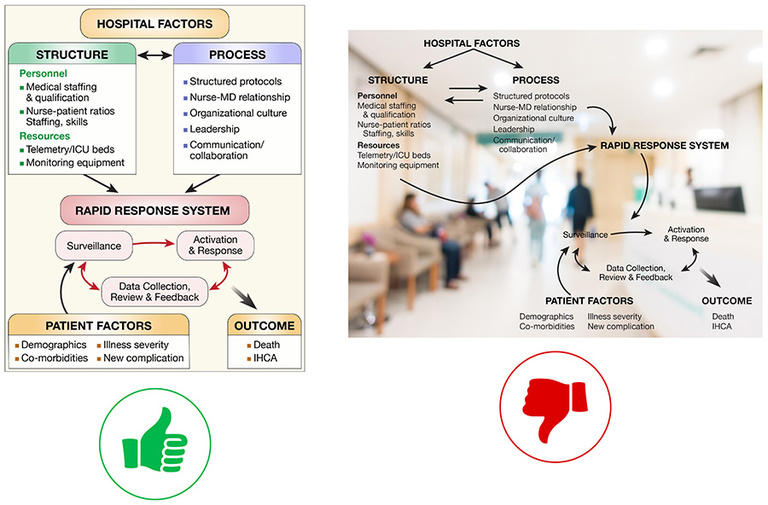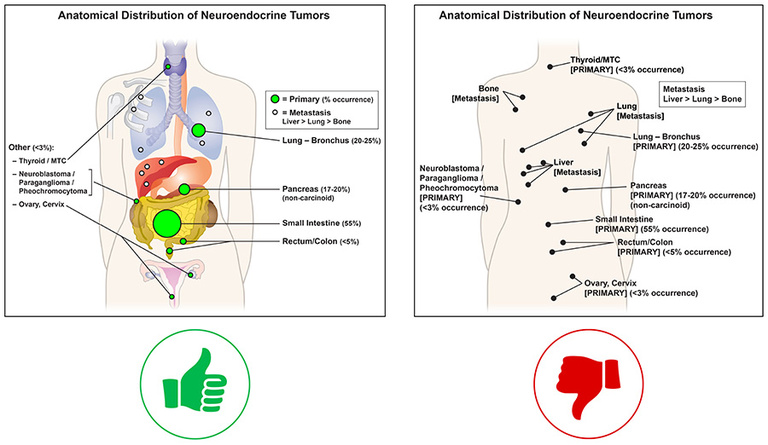 ---
Tables
Use tables in place of Results text - do not duplicate data in text and a table
Table design should not upstage the data; avoid overly complex design elements (be careful when using premade table formats available in software applications)
Use a sans serif font: Arial, Helvetica

Highlight only statistically significant data; use bold or contrasting colored text
Examples of bad vs good tables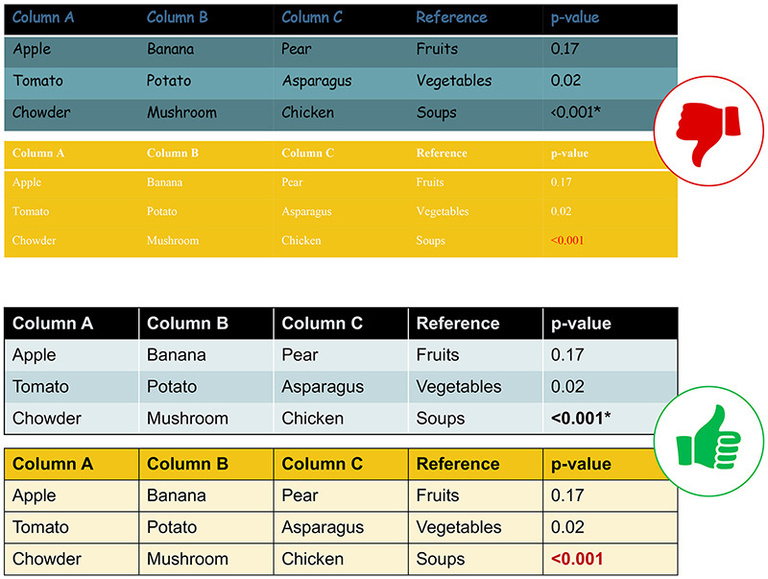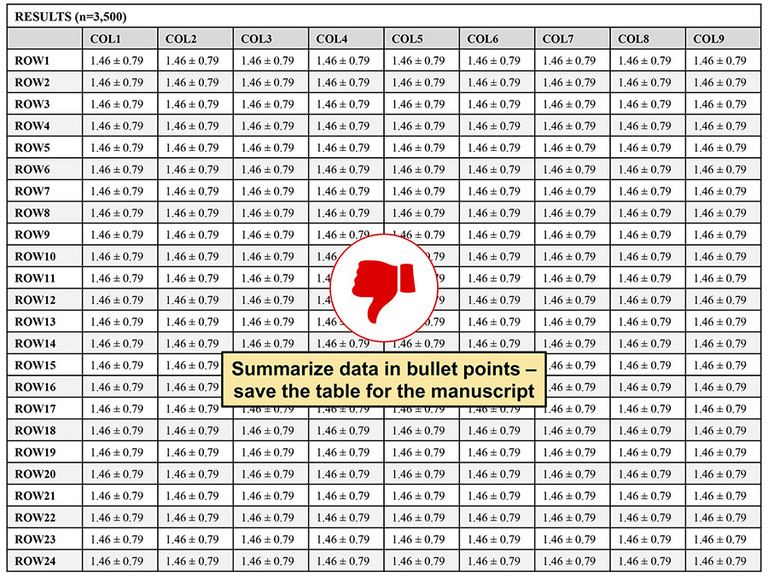 Give the poster room to breathe! Blank space between columns and graphical elements is important
Size proportionately: if final poster size is 42x60, set up PPT at 21x30
E-posters should follow same guidelines as print posters, with some allowance for smaller overall size
If a PDF file is required for upload, be sure to export as a high resolution file: learn how here
Other considerations
Plan ahead! Give yourself plenty of time to pull information together, format the poster, and get it reviewed by co-authors/mentors
Check with the your printing service about lead-time requirements; the Design Center requires minimum 2-3 business days; others will vary
Consider poster material: fabric folds for air travel, semi-gloss paper for most in-house posters, matte paper for drafts
Less ink is better! Don't use a lot of it—use it effectively and selectively.
Posters are not cheap – identify your funding source early (some examples are research grant, departmental or start-up fund, gift account, self-pay)
Upload posters for printing online with the Design Center job request form